New Year - Why not work less!
Another tax year is here and all of us accountants (and taxpayers too) can finally breathe - with very few drastic changes in the tax year about to start for 2015/16.
Federal Budget changes this year have seen some good results for our small business clients who can now definitely receive an upfront deduction for assets under $20,000 used in their business – if acquired after 12th May 2015. This legislation was passed on 15th June 2015, but we do note that this is only useful to our clients if they need to reduce their expected business profits. And some of our farming clients can also receive immediate deductions for water facilities and fencing assets under the same provisions.
As usual we have attached a few tax related articles to this newsletter that may be of interest to you – please take the time to peruse these in case something is relevant to your personal situation. If you need to discuss anything in the articles feel free to contact our office anytime.
Lastly, we'd like to ask you a simple question: "Would you like to work less?"
Most would definitely say a big YES, and for Marc & Sophie the dream of being able to say this is finally here. That's right, both Marc and Sophie will be working four days a week for the foreseeable future to spend more time with their families (and golf clubs!). Sophie will be away from the office most Monday's, and Marc plans to be away most Fridays.
We look forward to seeing you all soon for the upcoming 2014/15 tax season and can advise that we are already taking appointments for this busy time.
Keep taxing on.
The Team at Lidgerwoods – Marc, Sophie (front), Peta, Kate & Marie (back)

ATO warns about aggressive phone scams
The ATO is again warning the public to be aware of a phone scam that is circulating, where fraudsters are intimidating people into paying a fake tax debt over the phone.
The aggressive scam attempts to force people to pay a fake tax debt immediately by threatening arrest if they don't comply.
Editor: If any client receives a call from the ATO we recommend that they should ask for the caller's name and either call our office with the details or phone them back through the ATO's switchboard on 13 28 69. And we recommend you always contact Lidgerwoods if you are unsure about any direct message from the ATO or anyone purporting to be from the ATO.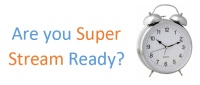 Employers and SMSFs must prepare for SuperStream
With the 30 June 2015 here already for our medium to large employers to be SuperStream compliant, the ATO has been urging these employers to act now to ensure they are SuperStream ready.
Editor: For 'small employers' with 19 or fewer employees, SuperStream starts from 1 July 2015 and they have until 30 June 2016 to be ready (though they can start using SuperStream earlier, if possible).
The ATO has also reminded employees of these taxpayers who are members of a self-managed super fund (SMSF), that they have the same deadline.
For SuperStream to work efficiently, employees with SMSFs must provide relevant e-commerce details to their employer so they can update their payroll system.
This information includes the SMSF's:
Australian Business Number (ABN);
bank account details; and
electronic service address.
Editor: By 30 June 2015, SMSFs must be able to receive employer contributions electronically in the SuperStream format if their members work for a medium or large employer.
In the event that an SMSF member fails to provide this information to their employer in time for the employer to get ready, the employer may request that the employee completes a new choice form.
Therefore, the ATO recommends that SMSFs provide these details to their employer at least 30 days prior to the date the employer will start sending contributions using SuperStream, to allow enough time for the employer to manage the changes and ensure the SMSF has no interruption in maintaining their contributions flow.
Editor: If you need any assistance with this, including the requirement to obtain an electronic service address, please contact our office.
Holiday homes that taxpayers rent out
The tax principles that apply to a rental property also apply to a holiday home if it is rented out.
If a taxpayer rents out their holiday home, they can claim expenses for the property based on the proportion of the income year it was rented out or was genuinely available for rent.
They must apportion their expenses if the property is used:
for private purposes for part of the year – such as when they use it themselves, or allow their family, relatives or friends to use it free of charge; and
by family or friends for part of the year and they are charged less than market rent.
If their holiday home is rented out to family, relatives or friends below market rates, their deductions are limited to the amount of rent received for that period.
Editor: Clients who own holiday houses should be aware that they need to keep records of their expenses. If they make a capital gain when they sell the property, the proportion of expenses (interest, insurance, maintenance costs and council rates) they could not claim a deduction for are taken into account in reducing the amount of their capital gain.
The ATO has updated its information guide on claiming deductions on holiday homes. This may have something to do with its stated intention to increase its audit focus on holiday homes that are rented out. Clients with such holiday homes may want to contact Lidgerwoods to attain further advice.

Eligibility for net medical expenses tax offset
The ATO has reminded taxpayers that the net medical expenses tax offset (NMETO) is being phased out for most clients. However, the eligibility rule for the NMETO does not apply to clients with out-of-pocket medical expenses relating to disability aids, attendant care and aged care (these expenses can continue to be claimed until 30 June 2019).
To be eligible for the NMETO for 2014/15, a taxpayer must have received an amount of the tax offset in both of their 2012/13 and 2013/14 income tax assessments.
If a taxpayer's 2012/13 notice of assessment shows an amount of zero for NMETO, they wouldn't have received this offset in that year and so are not eligible to make a claim in 2013/14 or 2014/15.
Editor: In most cases if you did not claim the NMETO in the prior year, you will not have a claim going forward at all, therefore it is pointless to keep and summarise the medical records for tax purposes for most of our clients – unless you are claiming for disabled and aged care costs.

Government ends benefits for parents who do not vaccinate
The government has confirmed that eligibility for taxpayer-funded payments (including Child Care Benefit, Child Care Rebate and the Family Tax Benefit Part A end of year supplement) will be dependent on children having met early childhood immunisation requirements.
The government will end the one religious exemption on children's vaccinations (for the Church of Christ, Scientist, which apparently doesn't advise against vaccinating children anyway!) for access to these payments from 1 January 2016.
The conscientious objector exemption on children's vaccination has also ended, so the only authorised exemption from being required to have children immunised in order to receive benefits will be on medical grounds.
Therefore, parents may still decide to not vaccinate their children (as a 'vaccination objector'), but they are no longer eligible for assistance from the Australian Government.
Editor: Lidgerwoods recommend you consult your financial advisor if this applies to you.
Please Note: Many of the comments in this publication are general in nature and anyone intending to apply the information to practical circumstances should seek professional advice to independently verify their interpretation and the information's applicability to their particular circumstances.
Lastly we welcome your feedback. If you found this E-Newsletter very useful (or not?),
we'd appreciate your feedback either way.
MARC, SOPHIE, PETA, KATE & MARIE - 'The Team' at Lidgerwoods Accountants